Internal Audit Office
Mission
«To enhance and protect organizational value by providing risk-based and objective assurance, advice, and insight»
Vision
To be a high-performing internal audit activity that meets the expectations of our stakeholders and adheres to the Institute of Internal Auditors International Standards for the Professional Practice of Internal Auditing. This will enable us to be a business partner and a trusted advisor, recognized as a driving force behind a culture of governance, accountability, compliance.
Nature of work
The internal audit activity must evaluate risk exposures relating to the
organization's governance, operations, and information systems regarding the:
Achievement of the organization's strategic objectives;
Reliability and integrity of financial and operational information;
Effectiveness and efficiency of operations and programs;
Safeguarding of assets;
Compliance with laws, regulations, policies, procedures, and contracts;
Potential for the occurrence of fraud.
Audit Plan
Internal Audit Office (IAO) activity is performed in accordance with risk based Annual Audit Plan approved by Kcell Board of Directors Audit Committee.
In addition, the IAO activity includes ad-hoc and consulting engagements.
Organizational structure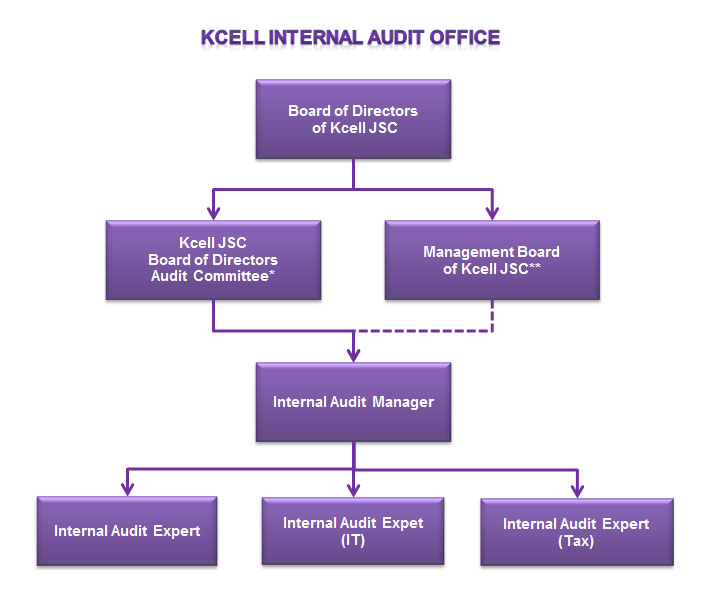 * IAO functionally reports to Kcell JSC Board of Directors Audit Committee
** IAO administratively reports (i.e. day-to-day operations) to CEO of JSC Kcell
The given structure provides IAO the necessary independence and objectivity to carry out internal audit responsibilities in an unbiased manner.
Kcell Board of Directors Audit Committee:
Dinara Inkarbekova (independent non-executive director), Chairman;
Kuanyshbek Yessekeyev (representative of shareholder Kazakhtelecom JSC);
Timur Turlov (representative of shareholder Freedom Finance JSC).
IAO regularly provides activity reports to Audit Committee.
Internal Audit Office team
Internal Audit Office team consists of Internal Audit Manager and three Internal Audit Experts:
Financial Audit Expert;
IT Audit Expert;
Tax Audit Expert.
The Internal Audit Manager position is held by Assilkhan Kurmanaliyev.
Asilkhan has previously worked as Financial Controller in the Company and has more than 10 years of experience in such companies as Kazkommertsbank and Temirbank.
Contact details:
+7 7012112102
Assilkhan.Kurmanaliyev@kcell.kz
IAO governing documents
The Internal Audit Office activity is regulated by Kcell Internal Audit Regulation (approved by Kcell Board of Directors).