About company
Kcell* JSC is a part of the largest Scandinavian telecommunications holding — TeliaCompany www.teliacompany.com.
Kcell Company provides communication services in the GSM (900/1800), UMTS/WCDMA (2100MHz), LTE (4G), LTE Advanced (700/800 MHz and 1700/1800 MHz) standards.
The Company was founded in 1998 and provides cellular services under the brand name of Kcell, which mainly focuses on the B2B segment, and activ, which is focused on the B2C segment. As of December 31, 2016, Kcell subscriber base amounted to 9 986 thousand people.
Our mission is making our customers happy. Therefore, we provide our customers with the opportunity to share special times of their lives and stay connected with their families and communities, wherever they are.
Over 18 years of experience in the market, the Company is constantly expanding the network signal coverage. At the end of December 2016, Kcell provided 96% of the population of Kazakhstan with voice communication, and 73% of the population with access to mobile Internet. Since the beginning of 2016 the Company started to work on the deployment of LTE/4G network. By the end of December, Kcell had achieved 4G/LTE coverage of 35% of Kazakhstan's population.
* Kcell Joint-Stock Company is the successor of GSM Kazakhstan Kazakhtelecom OJSC LLP. On August 27, 2012, GSM Kazakhstan Kazakhtelecom OJSC LLP was reorganized by transformation into a joint stock company, and the company name changed into Kcell Joint-Stock Company. On December 13, 2012, Kazakhstan Stock Exchange (KASE) started trading Kcell ordinary shares with the trading code of KCEL. And on December 17, 2012 the GDR trading began on the London Stock Exchange (LSE).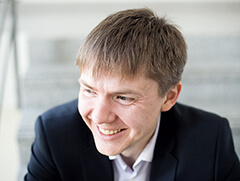 Arti Ots,
CEO
JSC Kcell