Ali Agan gave a live interview to Bloomberg Channel, Turkey.
BLOOMBERG
DATE: 21.11.2013
TIME: 12:12
DURATION 00:17:00
Journalist: Turks, Turkish companies, Turkish managers are currently very efficient working abroad. We have a businessman here, a manager who represents us successfully abroad. Ali Ağan who is the CEO of Kcell which is the biggest mobile operator in Kazakhstan, is in our studio now.
Welcome Ali Bey!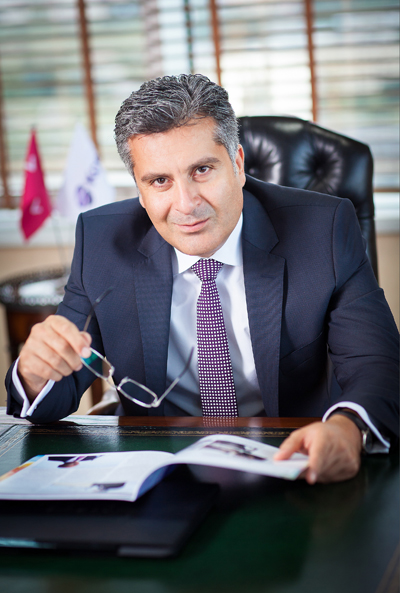 ALI AGAN: Thank you.
Journalist: Turks are very good at mergers and acquisitions, building partnerships and investing abroad. If we have any qualities to be proud of, this is one of them. Kazakhstan is the shining star of Central Asia and has the biggest gross domestic product, big sources of wealth and very high growth rate as well. It is also expected to be included in BRIC countries. Please tell about your position and what kind of environment you are in. And then we will talk about the telecommunication sector.
ALI AGAN:: Kazakhstan is one of the most prominent economies among the former Soviet Union countries, with the GDP of approximately 200 billion dollars and per capita GDP of about 13 thousand dollars. When Kazakhstan became independent some 20 years ago, its GDP was 13 billion dollars. On the other hand, if you look at the last ten years, Kazakhstan's GDP has grown 8 times. These are unbelievable numbers. To give a comparison to the Turkish audience, Turkey's per capita GDP is now about 15 thousand dollars. In Kazakhstan, it's 13 thousand and will be close to 14 thousand dollars at the end of the year. So, they are nearly equal economies.
When you look at Kazakhstan's geographical position, it is the ninth biggest country in the world and it is almost as big as continental Europe. Along with natural gas and oil, Kazakhstan is one of the world's unique producers of gold, uranium and grain, so the country has a great potential. On the other hand, its demography resembles Turkey very much in the sense that almost half of the population is under 25 y.o. We have very, very dynamic population.
TeliaSonera Eurasia has operations in seven countries in the region. Most of these operations have been established, developed and led by Turkish managers. Although it may seem that developed Western countries are more active because the sector we are in is rapidly changing and is very technological, we are actually exporting brainpower to the operators in these countries - not only Turkish people, but also the local people whom we have professionally developed.
Journalist: So you are exporting qualified labour force.
ALI AGAN: Absolutely.
Journalist: You have worked as top manager in the telecom sector in Uzbekistan and Azerbaijan. How powerful is Kcell as a GSM operator? Also, mobile penetration rate in Kazakhstan is unbelievable. It has surpassed 125% which means that every individual in Kazakhstan is using more than one telephone. Children are also included in that rate. If we exclude children, it is possible to think that some people have three phones or so.
ALI AGAN: Right. Kcell is TeliaSonera's biggest operator in Eurasia region. Kcell's 2012 revenue was 1.2 billion dollars and last year we conducted a successful public offering on Kazakhstan and London stock exchanges.
Journalist: So you entered two stock markets at once?
ALI AGAN: Yes, we entered two stock markets.
Journalist: And what is the size of the public offering?
ALI AGAN: 25 percent. It hasn't been one year yet, and our returns, the price of the shares has risen 70 percent. Thanks to the efforts of our team, we have won 3 prizes in the last 2-3 months for the most successful public offering in developing countries in Europe.
The 120 percent penetration you mentioned is the average of the region. Kazakhstan is more advanced in terms of mobile penetration. It is 180 percent. That means, as you said, if we include children and people that cannot use mobile phones, every customer has more than 2 lines. It is a very, very competitive environment. Despite this, our company has been successfully operating for more than 15 years, and if we look at the EBITDA margin, which is an indicator of operational efficiency, we are a global leader with 55 percent. In order for the audience to be able to make a comparison, margins in Turkey are about 25-30 percent. Kcell operates with 55 percent margin in a much more competitive environment.
But as I said, the company shares being traded in London, the satisfaction of investors in London, the rise of share price by more than 70 percent in dollar terms in less than one year - it is great to see the results of our efforts this way.
Journalist: Are you planning acquisitions or partnerships in Central Asia? You have obviously become one of the biggest GSM operators in Central Asia. At this point, I think, you have come to the point of expansion abroad, growth and development of new strategies.
ALI AGAN: As TeliaSonera Eurasia, we have operations in 7 countries. These are Moldova, Azerbaijan, Georgia, Kazakhstan, Uzbekistan, Tajikistan and Nepal.
Journalist: There are just a few countries left there. If you entered them, you would be moving to a truly regional operator position.
ALI AGAN: Well, I did not count Russia, but our parent company TeliaSonera has a partnership shareholding in Russia, and as you know in Turkcell as well. But regional acquisitions, purchases beyond the country's borders are decided upon by our offices in Istanbul and Stockholm. Now I am speaking as CEO of Kcell, as Kcell we do not have a strategy to expand abroad. But, especially in data market, to improve and expand our services, we are considering every possible acquisition or partnership opportunity.
Journalist: Do you consider entering Istanbul stock market? Do you have such intention? If you have, it is important news.
ALI AGAN: Not for now, but why not in the future.
Journalist: So, is there a certain plan in place?
ALI AGAN: Not for the near future, it's not in our roadmap, but I am only the CEO, top manager of the company. Decisions like this are made on the board level. In case of a company capable of making a successful public offering and coming from a country which we have historical and cultural ties with, and where Turkish managers are successful, I would sincerely like to see it listed in Istanbul also.
Journalist: Yes, personally, I would want that a company which has 70 percent returns in London stock market enters Istanbul stock market, I'm thinking from the point of view of investors. Well, let's talk a little about data, because voice traffic in the world is increasingly being directed through Internet nowadays.
Therefore, GSM operators need to rapidly take steps to develop communication through Internet. Does this create advantage for GSM operators or does it bring about disadvantages as well?
ALI AGAN: It is a very good question, because all mobile operators are talking about this: What should we do in the future? Voice services, as you know, turn out to be a commodity. And mobile operators have focused their future growth on data. Let me give you some interesting information: within one minute 277,000 tweets and 2 million Google searches are made, we talk about only google, not other search engines. Within one minute, 72 hours of video are uploaded to YouTube and 100 million e-mails are sent. This is happening as we speak right now. On the other hand, both credible research firms and the companies working in the telecom sector foresee that in 10 years data traffic will increase by 70 times globally. This means unbelievable potential for us. But the question is: should we turn data to commodity, same as voice, or should we mobile operators be more active on the service side?
Journalist: Yes, it is the choice.
ALI AGAN: Definitely, this is the choice. A lot of operators in the world have started working on it. Our company is among the leading operators in the world, and we are also studying these opportunities. There are now more mobile phones on earth than human beings. More people own mobile phones, than toothbrushes. We will be able to offer more in the area of data with technologies like 3G, 4G and other coming technologies. I think that not only Kcell, but also all other advanced mobile operators in the world will enter the area of services, rather than just being pipelines for data traffic.
Journalist: Do you think the service side will become more common and important, because there seems to be more money and also the future is on the service side?
ALI AGAN: Exactly.
Journalist: I want you to examine the Turkish market now. I am asking this because I think that you can present a different perspective, looking from abroad. How do you see the Turkish GSM sector?
ALI AGAN: Before working as CEO in Azerbaijan and Uzbekistan, I worked as a distributor of a service provider. When you compare with Eurasia and the CIS countries, the Turkish market is definitely more advanced. We should also underline this: the reason why we are in these markets is Turkish investors such as Turkcell. All the operations were established by the engineers of Turkcell. We are especially very proud of Turkcell and other operations as well. When Turkish market is compared with us, especially on the service side, Turkish market is one or two years ahead. And it is very natural. Our operations were founded 1-2 years later than operations in Turkey. Furthermore, mobile market creates many service and product providers. These service and product providers are now working in the market we are operating in. In that sense, Turkey has many contributions to not only our sector, but also to developing these countries' trading volume.
In terms of data services, Turkish market is more rapid and advanced. And also, in terms of landlines, Turkish market is more developed because Kazakhstan is the country with very difficult landscape. In fact, it is an advantage for mobile operators. As I said, Turkey is a couple of years ahead of us. I follow Turkish market with honour, joy and appreciation.
Journalist: The world is now switching from 3G to 4G. Our Minister of Transport, Binali Yildirim, says that GSM infrastructure in Turkey now features 3.5G. We have very fast and developed 3G, so we can call it 3.5G. What are your preparations for transition to 4G? And when you look at Turkey, how does the transition to 4G in Turkey is perceived?
ALI AGAN: Our minister is right. I will use a very technical term, but if you switch to dual carrier system in 3G technology, it is possible to achieve speeds of 42 MB per second. It is almost half of the theoretical 100 MBps speed in 4G, but if you look at user experience, it is not a very noticeable difference. It does not mean that we absolutely need higher speeds going forward. In Eurasia, we are ahead of Turkey in 4G, because we are already offering 4G services in some countries.
HOST: So, you are ahead in 4G?
ALI AGAN: Of course. When I worked as CEO in Azerbaijan, I had a chance to launch both 3G and 4G. Now, we do not have 4G in Kazakhstan, we are still working on increasing penetration of 3G, but we have done all the preparations for 4G. And I am sure that we will very soon launch 4G in Kazakhstan.
Journalist: If you look at the geographies close to Turkey and draw an arc from Syria to Central Asia, down to the Middle East, then left to the Balkans and up to Moldova, here many of the GSM operators and other telecom companies are managed by Turks, in other words people with Turkish names and of Turkish origin. This is something to be proud of. Maybe in the future we can advance further from management to ownership of these operators?
ALI AGAN: Of course every Turk would like to see Turkish firms expand as much as possible and do business not only in Turkey, but also abroad. But if you look at the rapidly globalizing world, it is not so much important anymore who the owner is. When you look at Turkey, majority owners of many telecom operators are not Turkish. The important thing is management, synergy. Many countries do not have such strong cultural and historical ties as Turkey does with this region you have mentioned. I also think that it is an opportunity for Turkey to build synergies, it would be great. Although it is more important from my point of view who manages the operators, rather than what their country of origin is, of course I would be glad and proud if Turks increased their ownership.
Journalist: I wish you success.
ALI AGAN: Thank you very much.